More than 12 years our group of companies have been specializing in rendering ship's agency services, provision of vessels, supply of marine expeditions including sea marine transport approved for scientific researches and for comfortable stay at crew accommodation during operations at sea as well as approved for passengers transportation. We have extensive experience in the Barents, White, Kara and Pechora Seas, as well as in the area of ​​the Yenisei and Lena.
Through partner companies we can provide all marine operations, ship supply, delivery of goods by sea and agency services in the ports of the North-West Russia and Dudinka, Naryan-Mar, Vitino, Novorossiysk, Anapa, ports of Norway, Europe.
In addition to chartered vessels our group of companies possesses own fleet, which can carry not only cargo cargo, including refrigerated cargo, but also can provide containers transportation on deck, as well as the other deck cargo, as well as provide comfortable accommodation, job, as well as transportation up to 47 customer's personnel on each vessel.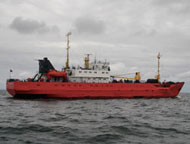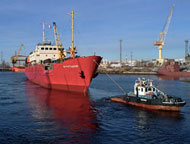 We gained a huge experience in provision of scientific researches for companies such as "Fugro Engineering" LLC, "Svarog" LLC, "Peter Gas" LLC, as well as institutes of the Russian Academy of Sciences, such as the Geological Institute of the Russian Academy of Sciences, Institute of Oceanology of the Russian Academy of Sciences, Biological Institute of Sciences.
We have all certifications and documents under the convention SOLAS, ISPS, as well as Certificate ISO 9001-9003 and Certificate of Conformity ISO 9001:2008 as well as license on recruitment and placement of seafarers on ships flying foreign flag.
A huge database of marine specialists (more than 5000 people) allows us always to help the Customer in searching for crew fully conform to all his requirements.
We provide an individual approach to every client taking into consideration all his interests and wish. Stable and efficient company's performance is provided by qualified, experienced, fully-trained and certified personnel, who are well versed in all aspects of our activity.
All above helps us to be one of the leading agency company in the port of Murmansk. Our partners recommend us as reliable and professional partner.
Our pride is our reputation! That's why it's very important for us that our partners are assured that cooperation with group of our Companies is a high level of service, professionalism, quality and efficiency.