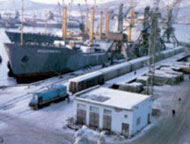 Today JSC «Murmansk Sea Fishing Port» – a modern high-mechanized company of the Northern region, specialized in transshipment of fishing vessels, mother ships and refrigerated transport.
More than 160 hectares, the total length of waterfront more than 4 km, the operational length of rails – 30 km, crane – 3 km.
JSC «Murmansk Sea Fishing Port» has its refrigeration capacity of 13 thousand tons of storage of fish, container yard, warehouses, salt warehouse, warehouses cardboard packaging.
Productive capacity of the port are 31port cranes of 20 tons, 1 railway crane of 16 tons, 2 car cranes of 16 ton, 66 units of electric trucks, 12 trucks.
Port is now the owner of the port fleet .
To ensure stable operation and better capacity utilization currently the port goes to the processing of non-traditional goods specifics of his fish. So successful was the experience of handling large volumes of crushed stone and gravel. During the summer passenger navigation large foreign cruise ships are moored at the berths Murmansk Sea Fishing Port.